Get Flipkart Plus Membership for Free
---
Flipkart Plus Membership for Free, How to Become Flipkart Plus Member – Flipkart is India's number one eCommerce website we all love to shop from Flipkart, but if you gonna buy products below Rs.500 you have to pay delivery charges of 49 or more. But you can buy anything without delivery charges and lots more features come open if you become a Flipkart + user.
Flipkart doesn't charge for plus membership but you have to collect some plus points to become plus members if you keep shopping from Flipkart they will give you coins in return of them.
Flipkart turned their Plus coins into super coins and if you have 1 Plus coin it means it now becomes 10 super coins
How To Become Flipkart Plus Member for Free:
You need 300 super coins to buy or renew Flipkart plus membership but Flipkart giving plus membership for free to almost every user.
1. Download Flipkart App – From Here
2. Login using your account
3. Click on 3 dot menu and go to Flipkart Plus Zone 
4. There you will find a button called "Join Now" click on it (not free for all users someones need 50 coins)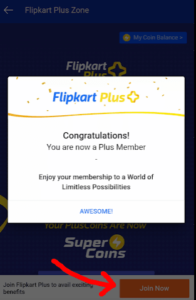 5. Congratulations! you will become Flipkart Plus member for free go to super coin option you will see nothing is charged from you.
6. Keep shopping you will earn 4 super coin on Rs.100 spend on Flipkart (Maximum cashback will be 100 Super coin)
7. To renew your Plus membership you must have 300 Super Coin in your account and your plus membership will be renewed automatically.
Frequently Asked Questions:
Q. what happened to my coins?
A: Every PlusCoin is now converted to 10 SuperCoins
Q. How do I earn SuperCoins?
A: For every Rs.100 spent on a Flipkart order, Plus members earn 4 SuperCoins and Non-Plus members earn 2 coins. Plus Members earn a maximum of 100 SuperCoins per order and Non-Plus Members earn a maximum of 50 SuperCoins per order. Coins will be credited to your account after the completion of the return period of all the items in the order.
Q. How do I renew my Plus Membership?
A: If you earn 300 SuperCoins within your membership period, your Plus Membership will be auto renewed. No coins will be taken for Plus Membership
Q. Do SuperCoins expire?
A: SuperCoins will expire after 1 year at the end of the month in which they were credited. Hence, all SuperCoins credited in a month will expire at the end of the same month next year. Example. If 10 SuperCoins got credited on October 10, 2018, 10 SuperCoins will expire on October 31st, 2019.
If you also get free let me know in the comment section below: