Lybrate.com and Paypal give us an amazing offer where you can buy Free products if you purchase anything and pay via PayPal you will get 100% cashback up to ₹200 on your PayPal account.
How to Avil This Offer:
1. at first visit the offer page
2. create Lybrate account/ login
3. enter a delivery address.
4. pay through PayPal and get 100% cashback up to Rs.200.
5. Valid For All Paypal User Who Never Used Paypal on Ly-brate.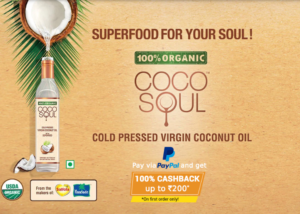 About The Product :
Coco Soul Virgin Coconut Oil (VCNO) is a superfood which is 100% organic and natural.*
It is specifically prepared from fresh raw coconuts through a meticulous no heat process, which helps preserve vital nutrients.
VCNO is one of the richest plant based sources of naturally occurring Medium Chain Triglycerides (MCTs). These MCTs contribute upto 60% of the total fats in VCNO. Unlike long chain saturated fats, MCTs get rapidly digested for instant energy release and help in weight management. The MCTs in VCNO breakdown into ketones that support cognition/memory function.
Coco Soul comes from the house of Marico, the maker of leading brands Saffola and Parachute.
Note: Product is liquid above 25°C and freezes below 25°C.