How To Apply Paytm Credit Card Online 
Do you want to know how to apply Paytm Credit Card, you have come to the right place. Today, in this article, we will show you how to apply for Paytm credit card in a very easy way. Guys, daily here we posted so many tips and tricks & Amazon quiz updates, for all those updates join our Telegram Channel.
Telegram Channel – Join Now
What is Paytm Credit Card?
Recently, Paytm is providing credit cards to specific users who partnership with SBI. And you can also use this service as Paytm SBI Credit Card.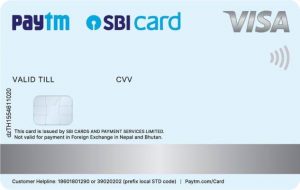 As you use the credit card of other banks, you can make online payments with this credit card and withdraw money from the ATM machine, and also make international payments if required. In addition, you will be able to make payments after shopping at Paytm mall, big bazaar, or any other mall using a Paytm credit card. In addition, you will continue to get a cashback of 5% on every purchase you make from Paytm SBI credit card.
If your Paytm credit card is lost or damaged, you can also lock it or unlock it. In addition, you can also call another card when the card is detable.
How To Apply Paytm Credit Card Online?
If you want to apply Paytm credit card online, you must already have a Paytm account and your account should verify only if you can apply.
Keep in mind that your Paytm app should have the same mobile number register that is registered in your bank account if it is not, you should first change the mobile number in your Paytm.
In addition, your Paytm app should be updated and your Paytm must have KYC if you have not made KYC in your Paytm, you must go to a nearby Paytm store and complete KYC.
Full step How To Apply Paytm Credit Card:
First, open the Paytm app and click on the show more option below.
Next, a new page will open where you will get the option of Paytm credit card and click on apply now.
Then you need to provide some information about yourself such as – your name, PAN card number, Date of birth, gender and occupation.
After submitting all the information, a message will appear thanks for your interest in Paytm SBI card we will notify you shortly.
Now your Paytm SBI credit card has been applied, now Paytm will decide whether you are an element of it according to your transactions and credit score.
Then there will be a mail on the register email in your Paytm account on behalf of Paytm stating that you are an element of it.
Even we know the process of how to apply Paytm Credit Card Online, we'll know now what is the advantages of using Paytm credit cards.
To deal with credit card fraud, you are given Rs. 1,00000 insurance cover. If you have an incident like ATM fraud, Paytm and SBI together give you the amount of insurance.
If you use a Paytm credit card in a place like Travel, Movie and Mall, you are given 3% Cashback. If you make a payment anywhere from the online Paytm credit card, you get 1% cashback.
Conclusion – Friends in this article today, we have explained what is paytm credit card, how to apply Paytm credit card and what are the benefits of using Paytm credit cards. We hope our article must have helped you.
If you liked this article, don't forget to share it thank you…