If you have a TV and a Smartphone sometimes it becomes necessary to connect both the devices and enjoy the small screen of your smartphone to a bigger TV screen. Don't worry in this post you're going to know how to share a phone screen with any TV and enjoy screen casting.
There are some different methods you can make this process possible but remember your TV at least need to have an HDMI port. If you have a smart TV with Wifi or an Android TV you're ready to rock. If you don't Check out the best TVs Here.  Let's start…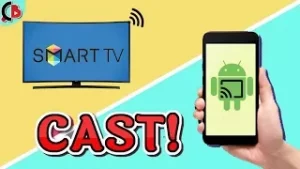 1

Method One: Chromecast Built-in

If you have an Android TV with Chromecast Build-in like me you don't even need to get up from your living room couch. Every smartphone Android or iOS has an option to share a screen or any media straight through the TV with the same network.

Connect your smartphone and TV with the same WiFi network and you'll automatically find the Screencast option on every eligible media player app or OTT app.

If you do not find any option go to Settings >> Screen Share >> search device and connect.
2

Method Two: With Third-Party Apps

If the above method didn't work for you, you can try third-party apps and they will do your work. There are a lot of apps available that can easily cast your screen or media with a smart TV. Just Install any one app Like MiraCast, Screen Mirroring, Power Mirror, etc, and try to connect your phone with your TV.

Remember: Your TV and Phone must be connected to the same wifi network otherwise, it wouldn't work.
No WiFi Needed:
If you don't have wifi do not worry there is another method that will allow you to connect your devices using USB and you can share your phone screen too.
Remember: You might need to turn on the USB debugging option by going to the developer option on your Android device.
Go to Settings >> About Phone >> Tap 7 times on the Build number your developer option will be unlocked.
3

Method Three: Using Chromecast HDMI Devices

If your TV doesn't wifi or a USB port but has an HDMI port then there is another way to share the phone screen with the TV.

You need to have a Chromecast device or any HDMI device that supports a wireless display you can easily connect to your phone.

Go to settings>> Screen Cast option and find the new device you'll find the device and easily connect.
Conclusion:
At the end of the article, I must concern some points. Say you need to have at least a TV that allows you to share screen or Screen mirroring otherwise sorry it will not be working. Remember most modern TVs do support screen mirroring so it is better to buy a fresh one if you really need this.
Do share with your friends and family if you find anything helpful.